Public Rights of Way and Access Land
Access to the countryside is an important factor in maintaining the health and well-being of people. The National Park provides accessibility through its mountain, woodland, water and coastal landscapes to the public, via an extensive network of Public Rights of Way (PRoW), CROW 'Access Land' and other routes. These features facilitate access to other recreational activities within the Park, for example cycling, horse riding, water sports, climbing and picnicking etc, and also between settlements. Use of this network of footpaths etc varies with locality and season.
Length of Public Rights of Way in the National Park: 2,742.6km
Length of wheelchair-accessible paths: 22.3km
The Countryside and Rights of Way Act (2000) introduced a new right for people to walk freely over 'Access Land' (i.e. areas of open country and registered common land) in England and Wales, including mapped areas of mountain, moor, heath and down (collectively defined as 'open country') and registered common land, much of which was previously off-limits. Section 16 of the Act provides for a voluntary dedication scheme, allowing landowners to dedicate statutory access to any other categories of land in perpetuity. Through this mechanism, since 1999, proposals have been made by the Forestry Commission to dedicate public rights of access to the majority of freehold National Assembly owned woodland.
In Snowdonia, large areas of land were traditionally accessible to the public through access agreements between landowners and the Snowdonia National Park Authority. The CROW Act extended public access significantly across the national park, with the designation of 'Open Country', 'Registered Common Land' and also forests. This data is presented below:
Area of National Park defined as Open Country: 84,697ha
Area of Registered Common Land with access: 21,958ha
Area of Forestry Commission Land with access: 20,987ha
Total access secured under the CROW Act: 127,642ha
Percentage of National Park area with CROW access: 59.86%
Tourism Information Centres
SNPA has previously operated Tourist Information Centres (TICs) at Aberdyfi, Beddgelert, Betws y Coed Dolgellau and Harlech. They provided a range of services for visitors to Snowdonia. As part of cost cutting the Authority permanently closed Harlech and Dolgellau TIC and the year-round opening of others has been curtailed. The changes involve:
operate a seasonal opening pattern for Aberdyfi TIC
opening hours of 10-4pm.Betws y Coed TIC in winter
opening the TIC at Beddgelert seasonally, which entails
opening from Easter weekend to the last weekend of the autumn term.
Information Centre Visitor Numbers
2009/10: 301,392
2010/11: 282,553
2011/12: 288,357
2012/13: 242,247
2013/14: 270,226
2014/15: 266,400
2015/16: 203,906 (175,719 April to October as two centres seasonal)
2016/17: 217,816 (196,290 April to October as two centres seasonal)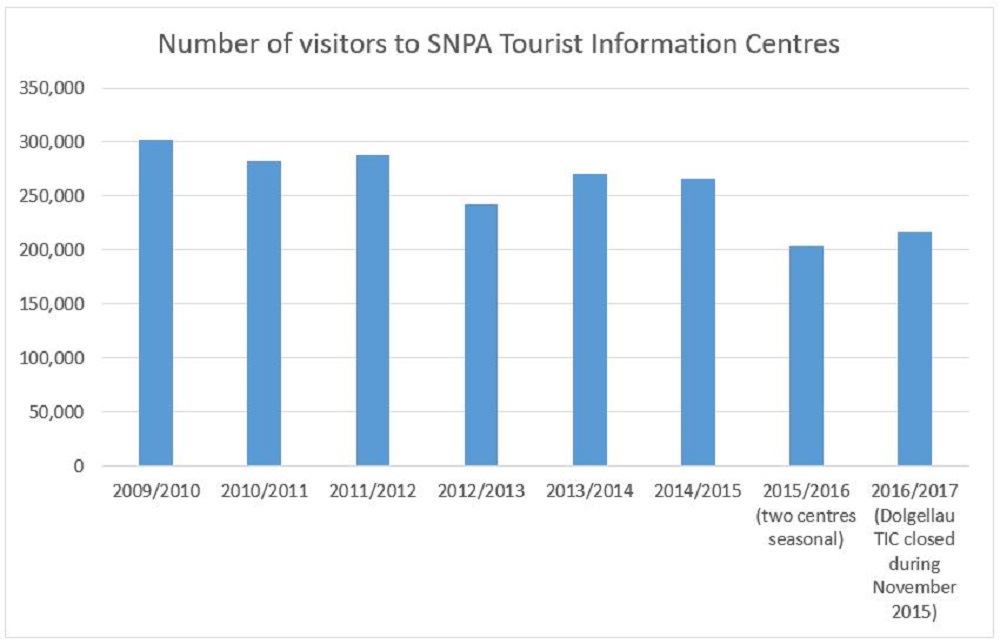 © SNPA
Website
Visitors to the area will also use other means of accessing information such as the National Park's website. The number of unique "hits" on the website are shown below along with hits on different web pages within the site.
2011
Website: 253,021
Pages: 1,539,435
2012
Website: 336,276
Pages: 1,746,791
2013
Website: 445,121
Pages: 2,301,844
2014
Website: 490,247
Pages: 2,211,841
2015*
Unique page views: 1,291,284
Page views: 1,746,346
2016*
Unique page views: 1,322,233
Page views: 1,771,752
*Change in Google Analytics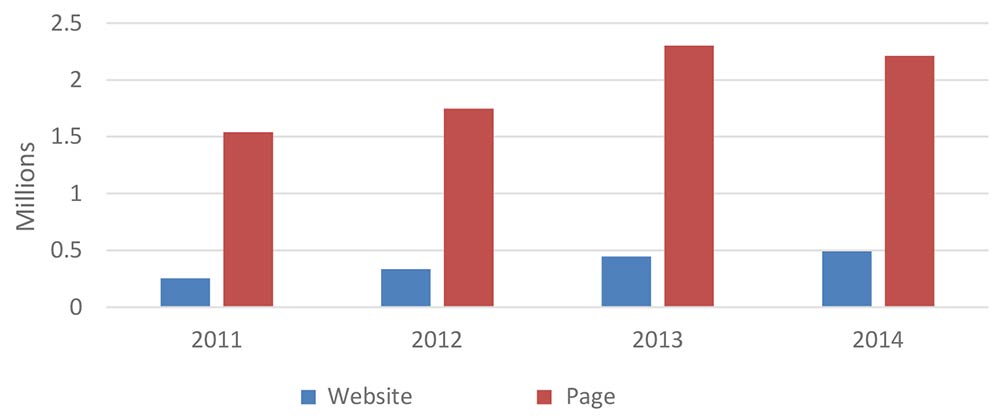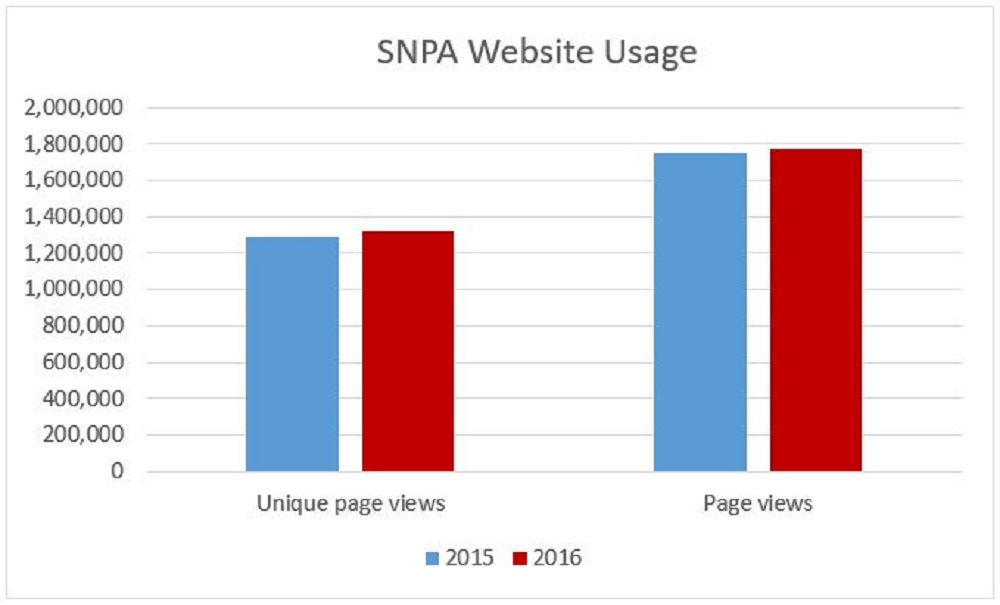 Hill Walking
The SNPA monitors a number of popular routes up Snowdon and other mountains in the National Park. The infographics below show the totals for 2016.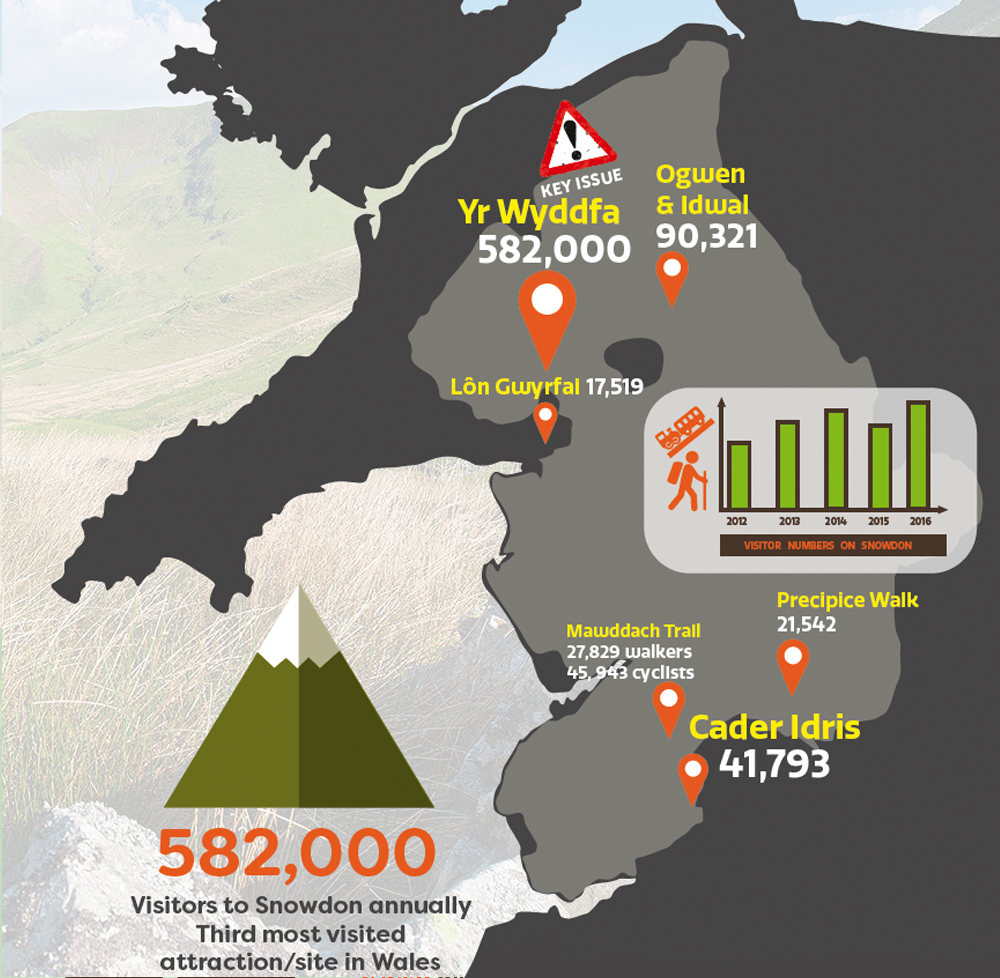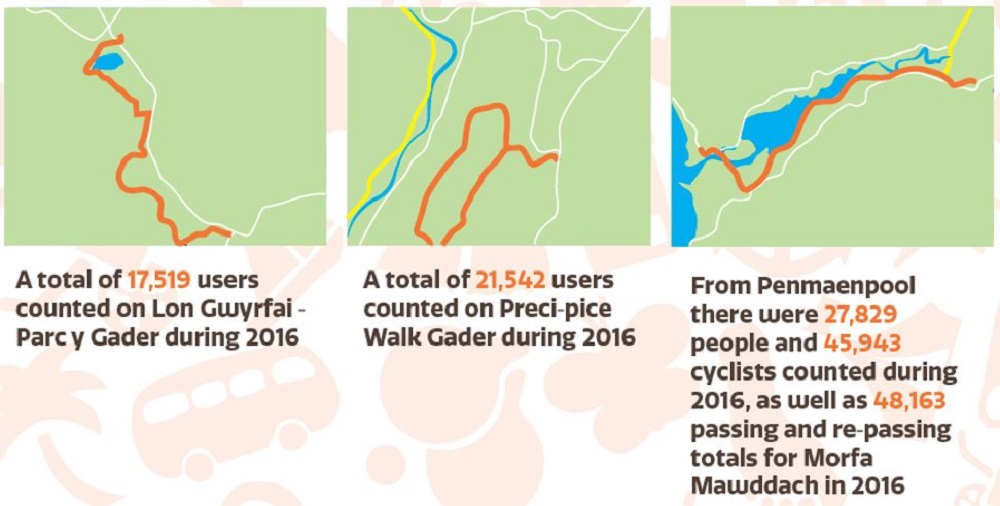 Snowdon
2010: 430,258
2011: 404,188
2012: 365,944
2013: 449,312
2014: 455,241
Ogwen and Idwal
2010: 128,148
2011: 122,481
2012: 111,834
2013: 123,181
2014: 116,655
Cader Idris
2010: 53,396
2011: 46,626
2012: 52,598
2013: 49,235
2014: 58,540
Visitor Monitoring One-way Figures selected paths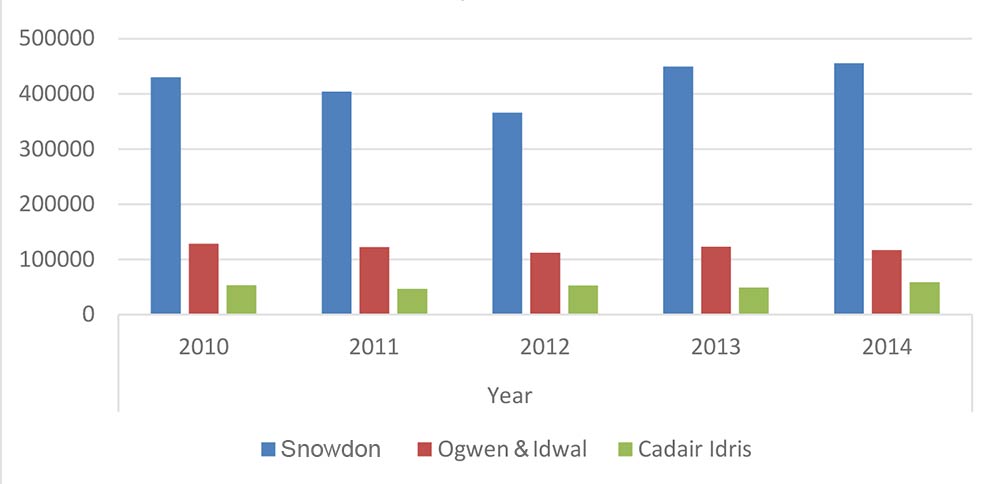 Mountain Biking
Snowdonia provides opportunities for mountain biking, particularly within Gwydyr, Penmachno and Coed y Brenin Forests. The numbers of people mountain biking within Gwydyr, Penmachno and Coed y Brenin Forests nearly trebled between 2002 and 2003, before remaining fairly constant from 2003 to 2008 This is illustrated on Figure 43. Since 2009 numbers biking in the Betws y Coed area show a declining trend whilst in Coed y Brenin numbers increased from 2010. The centre at Coed y Brenin along with the subsequent development and improvement of facilities has boosted visitor numbers significantly, especially among non-biking visitors. Coed y Brenin has been designated as a centre of excellence. See Box below:
Number of Mountain Bikers Visiting Betws y Coed Area and Coed Y Brenin Forests (Source: Forestry Commission, 2015)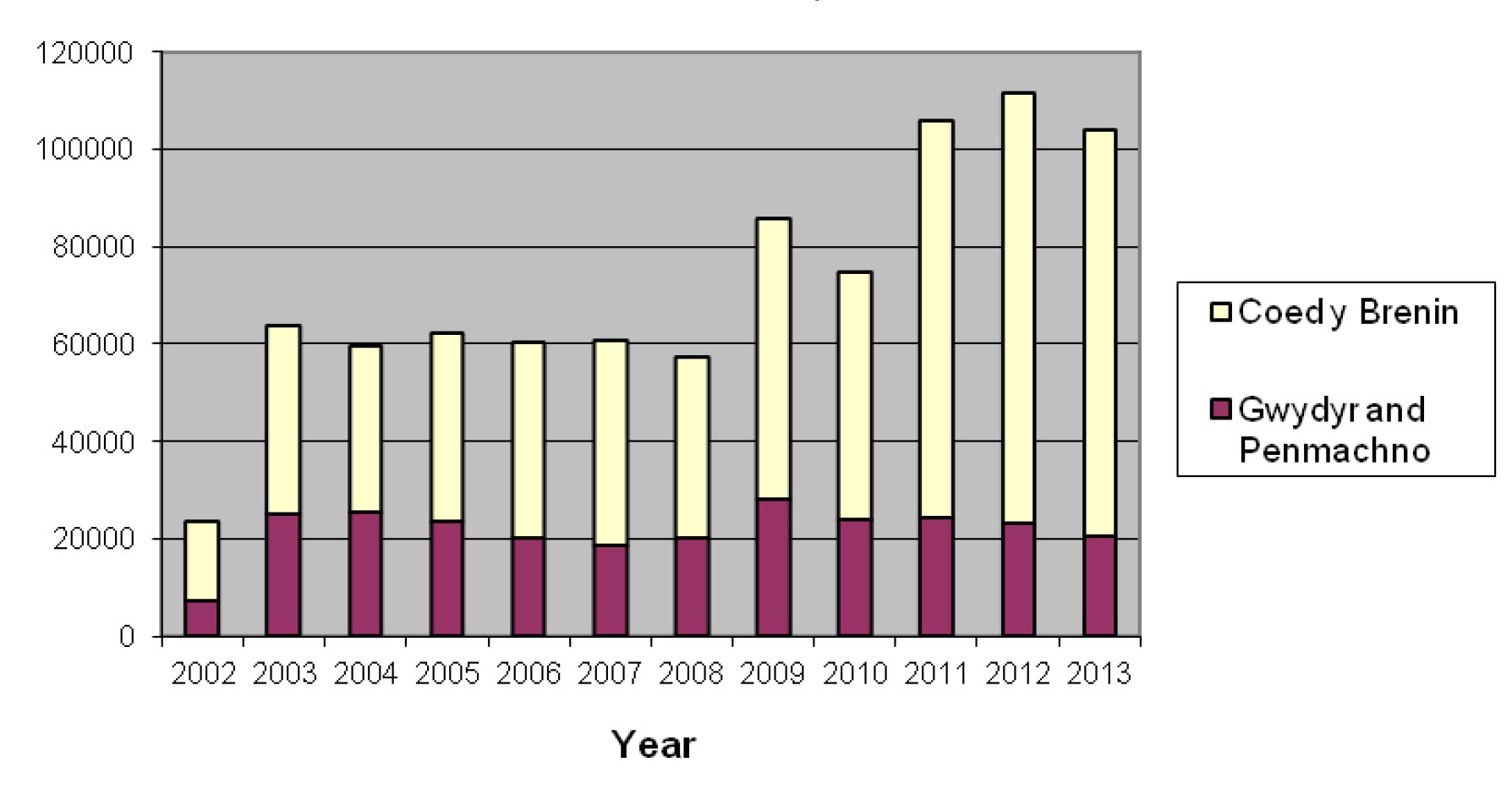 ©SNPA