WFD Classification
The way that waterbodies are assessed has changed significantly as a result of the introduction of the WFD. Previously, the General Quality Assessment (GQA) scheme was used to assess river water quality in terms of chemistry, biology and nutrients. The WFD classification looks at over 30 different measures, grouped under two main headings:
ecological status (this includes biology as well as other factors such as phosphorus and pH) and
chemical status ('priority substances' e.g. mercury).
In addition to rivers the WFD also covers estuaries, coastal waters, groundwater and lakes. As a consequence NRW have had to update existing assessment techniques and develop new ones for those indicators not previously assessed.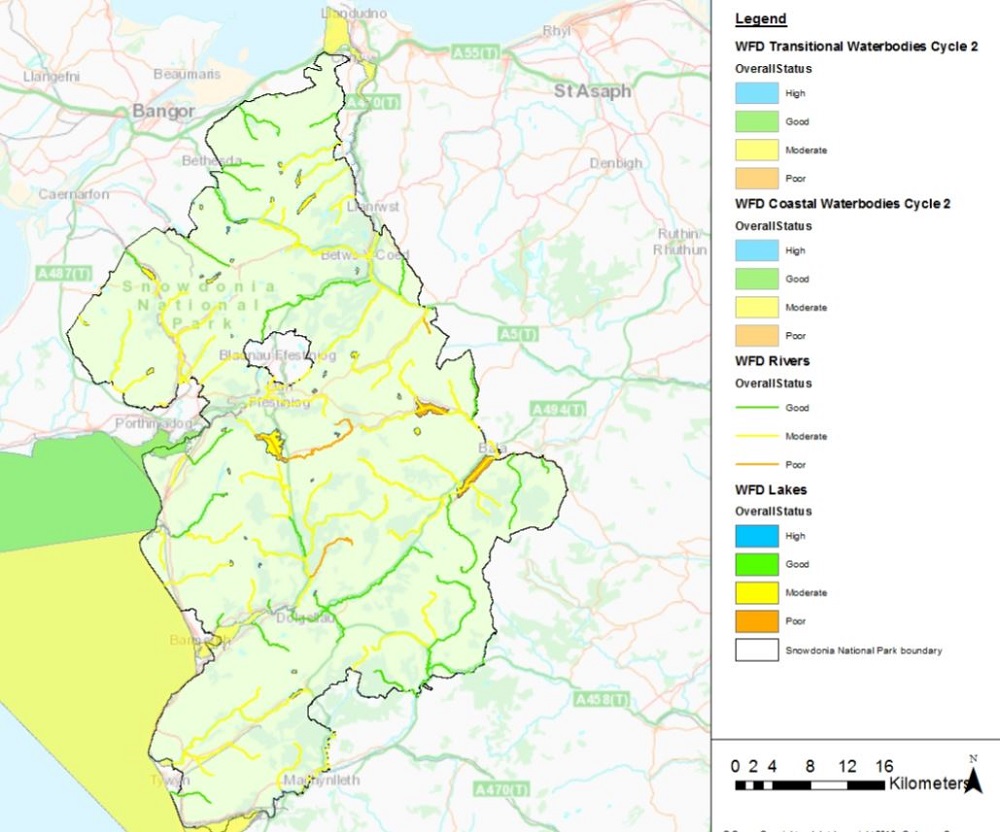 River Basin Management Plans
Under the Water Framework Directive, Natural Resources Wales is required to produce River Basin Management Plans (RBMP) that describe the pressures facing the water environment in each of Wales's three river basin districts6 on a series of six-year planning cycles. The second tranche of RBMPs is to be published in December 2015.
Each plan outlines the actions needed to improve the water environment. They also list the benefits that can be achieved and those best placed to deliver them. The Snowdonia National Park lies partly in the Western Wales RBD and partly in the Dee RBD.
Status of catchments in Snowdonia
The status of water bodies in Snowdonia can be viewed at: Water Watch Wales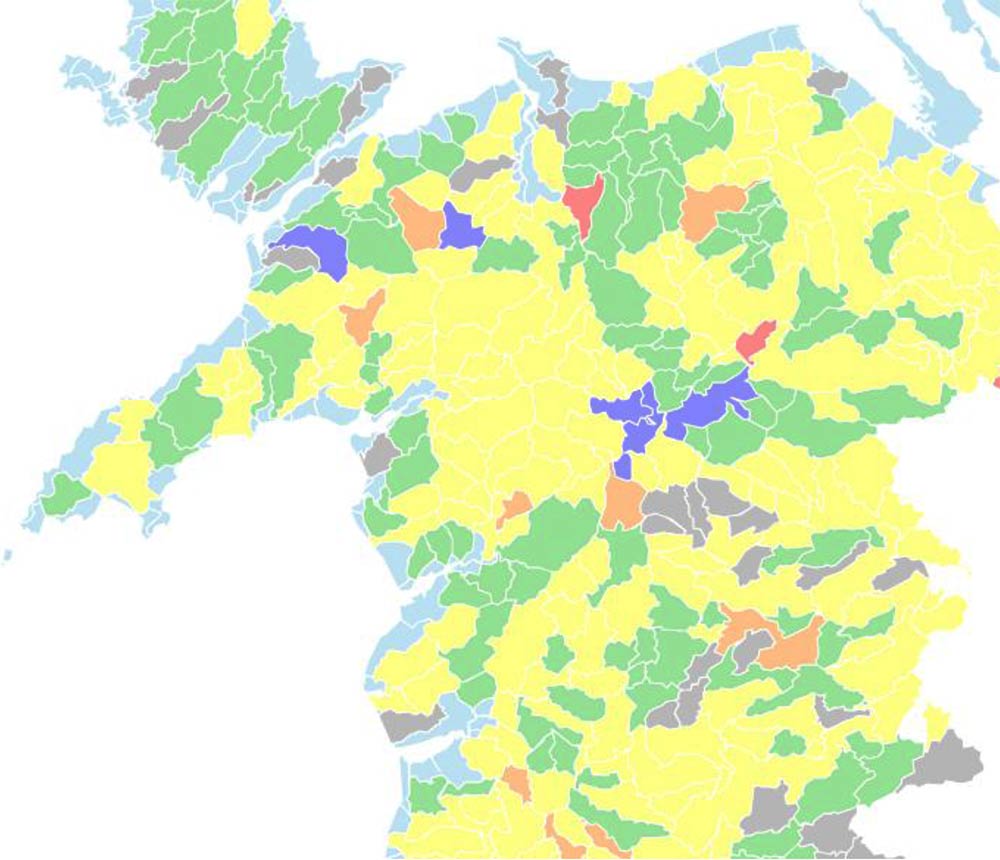 © SNPA 2016
Bad
Good
High
Moderate
Not yet assessed
Poor
Removed coastal water body
Reasons for Failure for Water Bodies in Snowdonia
NRW use reasons for failure (RFF) information to identify the main factors and issues impacting on Wales' water environment. Some failures may be caused by upstream issues (e.g. over-abstraction or regulation of flow) or downstream (e.g. obstructions such as weirs and dams can prevent fish migration). These issues occur across catchments and water bodies.
The main reasons for failure that Local Authorities should be able to address have been identified:
Artificial barriers to fish migration
Abandoned mines and contaminated land
Sewage discharges
Flood protection and land drainage
Urban and transport development
The figures below show all the reasons for failure that NRW identified for water bodies in the Snowdonia National Park. In many cases, water bodies fail for multiple reasons.
Reason for Failure and number of times RFF identified
Abandoned mines and contaminated land: 33
Acidification: 27
Agricultural pollution: 9
Barriers to fish migration: 10
Flood protection and land drainage: 5
Forestry: 15
Industrial discharges: 33
Natural conditions: 3
Septic tanks: 19
Sewage discharges: 1
Surface water abstraction: 3
Urban and Transport development: 1
Other: 1
Unknown: 5
In order to achieve Good status, many different co-deliverers need to take action utilising, where possible, existing mechanisms and measures to deliver cost-effective sustainable improvements to the waterbody in question.
6 A 'river basin district' is a group of catchments that contains a collection of rivers, lakes, groundwater reserves and coastal waters.
Coastal Waters
Water quality at designated bathing water sites in Wales is assessed by Natural Resources Wales. From May to September, weekly assessments measure current water quality, and at a number of sites daily pollution risk forecasts are issued. Annual ratings classify each site as excellent, good, sufficient or poor based on measurements taken over a four year period.
In 2014, all of the bathing waters in Wales were compliant under the Bathing Water Directive. This is the best overall result in the UK environment.data.gov.uk
Wales has seen an increase in the number of international Blue Flag Awards7 with 41 beaches and one marina in Wales being awarded a Blue Flag Award – eight more than last year. A further 30 beaches successfully obtained the Green Coast Award and 102 beaches across Wales gained a Seaside Award for their good water quality and facilities.
Quieter beaches in Wales were also recognised with the Green Coast Award .Winners of this award are generally the less popular beaches, often in more scenic locations that qualify with the highest standard of water quality but are better known for their natural, unspoiled environment.
The Seaside Award celebrates beaches that have good public facilities, water quality, safety and management. In Wales, these awards are managed by the environmental charity Keep Wales Tidy

7 The blue flag award is issued by the Foundation for Environmental Education (FEE), which rates beaches on categories including safety, facilities, and environmental management, as well as water quality and runs in 48 countries around the world.
The United Kingdom Acid Waters Monitoring Network (UKAWMN)
The United Kingdom Acid Waters Monitoring Network (UKAWMN) was established in 1988 to monitor the ecological impact of acid deposition in those areas that are believed to be sensitive to acidification. Its data-base provides a long-term record of water chemistry and biology which is unique for upland freshwater systems in the UK. Two lakes in Snowdonia (Llyn Llagi near Cnicht and Llyn Cwm Mynach in the Rhinogydd) are monitored under this scheme. Biological and chemical monitoring takes place on a quarterly basis, and epithilic diatoms and benthic invertebrates are sampled annually. The results are published annually by the Network.
The United Kingdom Acid Waters Monitoring Network 10 year Report 1988 – 1998 (March 2000) reported the following (Source: UKAWMN www.ukawmn.ucl.ac.uk):
There is strong evidence from Llyn Llagi that there is long term chemical and biological recovery from acidification. The UK Acid Waters Monitoring Network 20 Years Interpretive Report noted that there was continuing significant recovery from acidification at this site.
Llyn Cwm Mynach sediment cores indicate that acidification was occurring until relatively recently, exacerbated by forestry within the catchment. Few clear changes in lake chemistry occurred in the10 year period running up to 1998. The more recent The UK Acid Waters Monitoring Network 20 Years Interpretive Report found slight evidence of recovery from acidification
Although pollutant concentrations have decreased in response to emission controls the recovery of Snowdonia's ecosystems from acidification is taking longer and on-going levels of pollutants (such as nitrate and ozone) are still likely to be having a negative impact on semi-natural habitats. Avoiding such impacts is the key driver behind the UK Air Quality Strategy which set air quality objectives for a number of major pollutants to be achieved by 2020.